Steven and Chris Price
River Grove
Gavin and his team at Lifestylers have been undertaking work on our 18h block since 2006. This has involved remedial work on all existing fences (removing barbed wire, replacing posts and battens as needed), the installation of out-rigger electric fences to all existing fences, the subdivision of several paddocks and installation of troughs and numerous gates, as required. While the biggest job they have undertaken was the construction of a two-bay implement shed, their most outstanding work to date was the design and construction of a full set of cattle-yards. Gavin designed these taking into account the need for stock to be safely handled by one person if necessary and by inexperienced handlers. They are extremely easy to use and we have received only positive feed-back about them from such people as vets, stock agents and stock truck drivers and experienced farmers. The latest job completed is a stylish timber fence along our road boundary.
We have found Gavin listens to and understands our requirements and, from his own experience, often contributes good ideas to our designs to make them work better or look better. His staff are efficient and easy to work with. We would happily recommend Gavin and his team to others.
Mr & Mrs Whiting - 6 Acre Lifestyle Block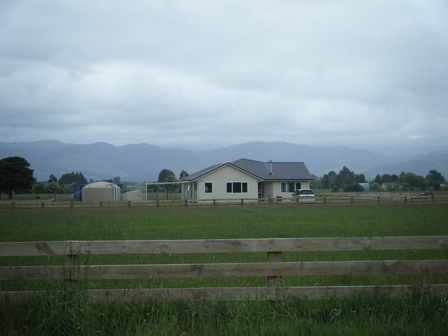 Thank you Lifestylers, when we originally approached you for a quote on doing our fencing, you were the only contractor out of 3 who gave us the time to come and look at our property and personally addressed our needs.
As "Townies" owning a lifestyle property for the first time we had an idea of what we wanted, however with your knowledge and guidance you were able to show me how impractical my design really was and you came up with a good practical solution quickly that suited our needs.
We were very pleased with the fast and professional service your team applied to our fences and would without a doubt refer your business to others as well as use your services again.
Dear Gavin,
Many thanks for your recent work to repair and reconstruct our fence at 695G Chester Road; we are delighted with the quality and practicality of the job. In addition, we are extremely pleased with your superb "customer service" (an over-used term these days, but I can't think of another one). We couldn't have asked for more from you!
We are looking forward to being involved further with you as we develop our block and we will happily recommend you to anyone we come across looking for work to be done in your line of business.
Kind regards
Jason and Rachel Jones